Types of cat litter trays
There are all kinds of shapes, styles and designs of litter tray available, from simple boxes to fully automated solutions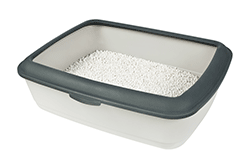 Open top trays
The most traditional type of litter tray is a simple plastic open box and is cheap and easily replaceable. If a tray is too shallow you may find that your cat does its toileting over the side by accident or makes quite a mess whilst digging litter around. Taller sided trays will solve this problem, but should not be so tall that your cat has to jump into the tray. Some open top litter trays have a rim around the edge to prevent litter being kicked out when your cat digs. Open trays are the simplest and easiest litter trays to maintain.
Covered litter trays
A covered tray is more expensive but does offer plenty of advantages if your cat is happy to use one. Covered trays are normally in two halves with the bottom half just like a normal tray. The top half may be solid or with openings for airflow and the entrance is normally just an opening although some covered litter trays even have cat flaps built in. A covered tray will give your cat more privacy, reduce odours from spreading and hide unsightly waste from view.