Transporting Your Cat
Getting your cat into a cat carrier or cage and going on a journey can be very distressing for your cat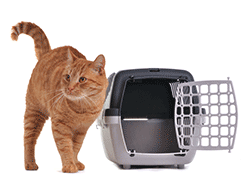 The carrier
There are all shapes and sizes of carrier on the market, from simple wire cages to multi-functional designs. Look for carriers which have a removable top or large opening to get your cat in - trying to get a protesting cat through a small hole can be difficult. Easy to use locking catches are helpful and their should be just enough room for your cat to turn around. The base of a carrier should ideally be plastic or contain a plastic tray so that any urine or vomit is held in the container - it is a good idea to lay down some newspaper and a blanket to make your cat more comfortable and to soak up any accidents. More advanced carriers on the market can be found with seat belt fittings, separate compartments for housing more than one cat, washable covers, carrying straps, food and drink dispensers, fabric cushioning, foldable frames and just about any other extra you can think of.
Preparing for transporting a cat
Even for small trips it is worth doing a bit of preparation to reduce the stress on your cat and make the journey as smooth as possible. Whilst some cat owners hide away carriers until the last minute in order to 'surprise' the cat, all this does is reinforce the connection between the carrier and an unpleasant event. It is better to allow the cat to familiarise itself with the carrier, rub some scent on it and mark it as its own. Keep the carrier out for a few days before the journey to allow your cat to get used to it, you can even use it as a play area or place some of your cat's bedding in it to encourage its use as a sleeping area. On the day of the journey don't let your cat outside, cats can often sense when something is going on and may ignore calls to come inside.