Dealing with hunting
Cats are excellent hunters and responsible for significant damage to wildlife. See what you can do to curb your cat's predatory nature
A cats natural instinct is to hunt and this instinct has not been lost through the process of domestication. Many of the first domesticated cats were cared for because of their useful hunting abilities, which would help keep crops and food storage areas free from rats and vermin.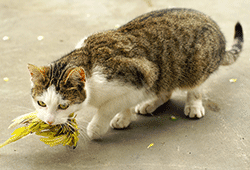 Hunting for food or fun
A domestic cat does not need to hunt for food, it can obtain all the nutrients it needs from the prepared food it is given by its owners. Hunting is more an exercise of natural urges and instincts and a way of releasing tensions, as well as a good form of mental and physical stimulation. The chance to go outside and hunt unpredictable creatures is strong when the rest of the day is spent sleeping, eating, and relaxing. A hunting cat is a happy cat.