Clothing for your cat
The market for cat clothing has boomed in recent years, but is cat clothing really a good thing?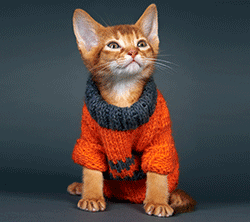 Do cats need clothes?
Domestic cats originate either from middle-eastern desert regions, where daytime temperatures are very hot and nights are very cold, or from european regions where they would live through freezing winters. Because of this genetic heritage, your cat is perfectly capable of surviving in a much greater temperature range than you are. If the indoor environment is warm enough for you then it is certainly warm enough for your cat, and if it is too cold outside your cat will find shelter or come indoors.
Hairless or short-hair breeds
Some breeds of cat, like the Sphynx, which have no noticeable hair might seem like good candidates for requiring clothing to replace the function of fur. In reality, indoor house temperatures are perfectly warm enough for cats, even without fur. If you keep breeds like this they will appreciate warm spots near radiators or even heated beds, but they do not require clothing.