Weaning kittens and leaving the mother
Between four and twelve weeks kittens learn to become independent and can be weaned away from dependency on the mother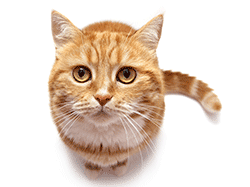 When can kittens be separated?
Although some breeders let their kittens go at around 8 weeks, 12 weeks is generally a good point to separate kittens from their mother and litter. The period of time between complete dependence on the mother (the first four weeks) and independence at 12 weeks is the 'weaning' stage.
Nutrition
During the first few weeks, the mothers milk provides all the nutrition the kittens need, including vital compounds to help prevent illness and promote growth. At around four weeks the kittens will become interested in solid foods, and should be encouraged as the mother cannot continue to expend energy feeding her litter. Encouragement can be done by soaking dry kitten food in a kitten-milk formula, this will help the kittens make the transition from milk to dry foods. After the transition feed your kittens on proper kitten food appropriate for their age. Kittens will need feeding more often than adults since they have greater nutrient requirements and smaller digestive systems, so provide food several times a day.