Cat Breeding, birth, and kitten care
Breeding cats is a serious responsibility. Kittens require plenty of time and money. If you have a pregnant cat, these articles should help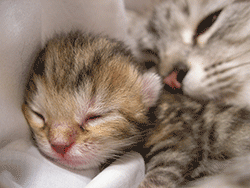 Do you want to breed cats?
To purposefully breed your cats you need to really know what you are doing, and why you are doing it. If you are breeding because you want more cats, want a cat with a character similar to the one you have, or like the idea of a cute litter of kittens, then you have not thought it through and probably should not be keeping animals.
Apart from the fact that there are already huge numbers of cats and kittens without homes, breeding cats and raising kittens is very time consuming and expensive. If you factor in all the costs of feeding, vaccinations, and neutering for a litter of several kittens you would soon be looking at several hundred dollars/pounds.