Claws for concern?
Thinking of declawing your cat? Please don't!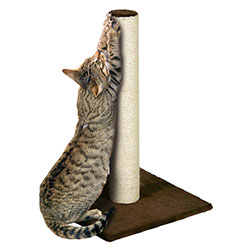 Admittedly, having a house full of shredded upholstery or scratched wooden fixtures is unsightly and annoying, and waking up with pin pricks in your flesh from an affectionate cat "kneading dough" is painful, but declawing a cat is not a good answer to the problem. Far from being a simple procedure, declawing is painful both physically and psychologically to the cat, and it can lead to other health and behavioural problems.
Scratching more than a bad habit
Cats scratch for four important reasons. First, scratching is a form of grooming that removes old nail husks. These can become overgrown if not shed routinely, and this will create problems with mobility. Second, scratching is a defence mechanism. Cats are small in size compared to potential threats such as a dog or raccoon, and a cat needs an equaliser for his or her protection. One swipe across the nose of an aggressor with claws extended can thwart a full-on attack and may mean the difference between life and death for a cat. Take away the cat's ability to defend him or herself, and the cat may become timid or overly aggressive. Declawed cats often become biters. Third, a cat communicates with other cats by way of scratch marks left in the area. A cat is marking his or her territory by scratching, and also alerts other animals of the fact that a cat lives in the area. Taking away the ability to scratch through declawing would be like taking away a teenager's cell phone. Fourth, cats exercise by scratching. It is common for a cat to stand on his or her hind legs, reach far overhead and scratch intensely. This exercises the muscles in the cat's front legs and also offers a full-body stretch that both limbers and distresses the cat. In short, scratching serves many purposes in a cat's life, and a healthy, happy cat needs the opportunity and the ability to scratch.