Keeping a cat indoors
If you have chosen, or need, to keep your cat indoors there are some things you can do to replace any lost outdoor stimulation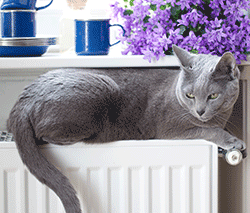 Is it ok to keep a cat indoors?
Whilst some will argue that a cat should always be allowed outside there is no real harm in keeping a cat indoors for the duration of its life, which statistically will be longer than a cat allowed to roam free outdoors. In some cases indoor life is a necessity, if the cat is a disease carrier, old and infirm, blind, or living in an apartment. However, if your cat is to spend the rest of its life indoors, some provisions should be made to replace a few of the lost benefits of outdoor life.
Scratching
The wear and tear on the claws of an active outdoor cat helps to prevent them from getting too long or sharp and cats instinctively scratch at things to keep their claws in check. For an indoor cat there are no trees or fence posts to scratch on so they have to use other objects - like carpets, curtains, and furniture! You can only prevent your cats scratching things they shouldn't if they are given a better alternative so a scratching post or mat is a necessity.