Microchip your kitten or cat
It is standard practice to have your cat microchipped, ensuring you can be quickly contacted should your cat become lost or injured.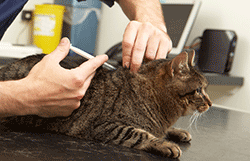 What is the 'microchip'
It is easy to think of a microchip as a big black box with bits of metal coming out, but in reality the microchip used for animal identification is tiny - about the same size as a grain of rice. Its tiny size means it can be implanted with a simple injection in seconds, with no harm to the cat, and at almost any age. Microchips require no permanent power source and only transmit data when scanned. The chip is implanted at the back of the neck between the shoulder blades and in most cases it will stay in this location for the cats life (sometimes they can slip a bit)
Cost of microchipping
You can get your cat microchipped at your vets, at a welfare centre, and even some pet stores and should cost very little. Some chipping providers also offer additional services (for a small fee) including free updating of details, additional details and phone numbers of friends and family, online details management, or automatic alerting of local vets and charities if your cat goes missing.