Litter training
Most kittens or cats will instinctively learn to use a litter tray. Training a human to provide a clean and suitable litter tray is more difficult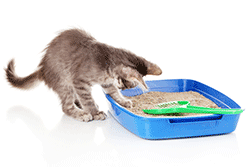 Most kittens will learn to use a litter tray as soon as they are mobile, usually by copying mum, but also because a litter tray is simply a good place of choice for a cat to do its business. You can easily show a cat or kitten where to do its toileting by simply placing it in the litter tray after feeding (this is often when cats go to the toilet) and giving it gentle praise after it has done its toileting. This action just about sums up the amount of training you need to give your cat to use a litter tray, the rest of the training is for the human to ensure that the cat continues to want to use the litter tray.
Litter tray location
Cats do not like being watched or disturbed when toileting, so a location which is as quiet and discrete as possible is best. Usually a very little used corner, under the stairs, or a utility room are best. The tray should be easy to access from at least three sides - cats often stand by the side of the tray to dig and cover their waste. Avoid areas where the cat is likely to be interrupted suddenly, such as a doorway or busy walkway.