Special formula cat foods
Look in any large pet store and you will see all kinds of specialised foods for different cat types. Some of these are worth investing in, others are virtually the same as normal food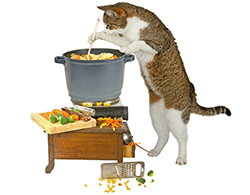 Kitten food
A fully developed adult cat has a large body able to distribute the nutritional gain from a big morning meal throughout the day but a kitten can only eat smaller amounts in one go, and as a rapidly growing, and high-energy expending organism, a young kitten will need more frequent feeding than an adult cat. Once kittens are weaned onto solid foods, they should be given up to four or five small meals a day which can steadily be decreased to two or three meals at six months. Kittens need plenty of nutrients to maintain good health and growth, but they only have very small digestive systems. Commercial kitten foods are designed to be nutrient dense so that they can be fed in smaller quantities, but still provide everything a growing kitten needs.
Changing a kittens diet
Until your kittens have grown into adult cats at around a year old, they are still developing, and this includes the bacteria which aid digestion in the gut. Any sudden change of food type is likely to cause stomach upsets or discomfort. Try new foods out in small doses, or just for one meal, and carry out any changes gradually to allow your kittens digestive systems to adapt.