Finding a cat - What to look for
Checking the health of any cat or kitten purchase can help prevent problems later, and ensures your money goes to the right place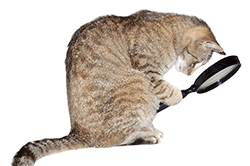 Making sure the cat(s) or kitten(s) you take home are healthy and well-balanced is of course essential but can also be difficult, especially if you are not a cat expert. Here are some simple things to look for.
Does the seller seem reputable?
Without knowing how breeders operate, it can be awkward to judge, but you should never feel pressured into buying a cat or kitten, and certainly should never buy a kitten because you feel 'sorry' for it.
The list of warning markers below may not on their own indicate a bad breeder, but will give you some idea of what things to look for:
Strong smells of urine or faeces may indicate a lack of care
Check that litter trays, feeding bowls and bedding is clean and there is access to water
Kittens are best raised in the home, be wary if they are not kept in the house
Make sure you get to see the mother
Pedigree cats should have official documentation
A good breeder will be knowledgeable about the breed, including any defects