Where to find your cat
Unless you have very specific requirements, finding cats or kittens is easy. The best place is often a rehoming cat charity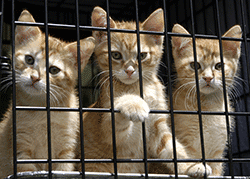 There are several places where cats and kittens can be found and most cat magazines or website classifieds are full of adverts for cats for sale.
Strays or feral cats are best avoided as they are generally not suited to a home environment and have their own set of unique problems. The most common and reliable places to find cats or kittens are:
Private breeder or individual
Friend
Adoption (rehoming)
Fostering
Private breeder or individual
Cats or kittens for sale can be found in local classifieds, specialist magazines or website forums. When purchasing from a private source it is very important to do your research and check out the situation. Some individuals who advertise themselves as breeders may be what are known as 'kitten farmers' who produce as many kittens as possible with little regard to their needs.
Reputable breeders may be able to give some more useful tips and advice with regard to the kittens care than a private seller.