What type of cat should I choose?
Keeping a cat or kitten is, like any animal, a serious consideration. The first thing to think about is what type of cat is best for you.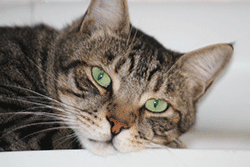 Obtaining Cats for showing or breeding requires some experience, so the assumption in these articles will be that you are looking for cat(s) or kitten(s) as pets.
First things to think about are:

Pedigree or non-pedigree (moggy)
Breed type
Single cat or more than one
Male or female
Cat or kitten
Pedigree or non-pedigree
The word 'pedigree' tends to infer that it is 'better' in some way, but this is not the case and both pedigrees and moggies have their own pros and cons. Opting for a pedigree does give you a much better idea of how the kitten will turn out, based on its parents appearance and character, and the recognised breed characteristics.
A moggy, on the other hand, can be much more varied because of its mixed background, but also tends to show fewer health problems throughout its life. Another consideration is cost - pedigrees can be quite expensive whereas moggies are usually free as there are often more kittens than homes at any given time.