Mixing cats with other animals
Cats are social animals and with the right introductions and timing, they can live happily with other pets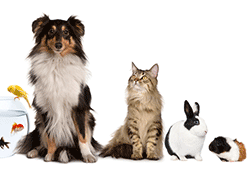 As with mixing cats together, success with other animals depends a great deal on the introduction. Most cats prefer to have free run of the household and may not appreciate other animals unless they have been together from an early age. Introducing a new cat to a household with other animals, or introducing new animals into a house with an existing cat needs to be done slowly and carefully. If done properly they should get along, or at least tolerate each other, and they may even begin to enjoy each others company.
Introducing cats and dogs
Despite the stereotype, cats and dogs usually get along fine, in many cases an established cat will get along with a dog more than it would another cat. This lack of conflict can be found with many different animals and is usually because the two animals are not instinctively competing for breeding ground or food. A successful introduction of cats and dogs relies on the dog's behaviour rather than the cat's. Dog owners should be in complete control of their dog, whilst cats will generally do as they please, which means the only controllable element in a meeting is the dog.