Shy, timid, and fearful cat behaviour
Cats naturally bond with humans, but nervous cats may need some extra care and understanding to reach this natural state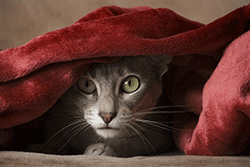 Cats, like humans, vary in character but all cats enjoy interaction, attention, and play. These needs can be at odds with nervousness, distrust, and fear so it is important to try and 'bridge the gap' with your cat, offer security, and remove these negative feelings.
Understand the cause of Shy Cat Behaviour
Kittens are rarely shy and timid but adult cats often show these characteristics. In most cases it is a result of isolated upbringing, lack of human interaction, or past cruelty. Having said this, if your cat is new it may simply be settling in and learning its new owners and environment. Try and identify the events which cause your cat to hide away, these could be noises, attempts to pick the cat up, touching the cat (either anywhere or in certain places), or sudden movements.